Welcome to Premium and Incentive Marketing
Since 1992, we have helped our customers achieve satisfaction, style, and increase brand awareness all while staying within their budgets.
* Customized Printed and Embroidered Apparel
Let us help you navigate the world of brand awareness and help you develop strategies for both internal and external branding of your organization. Browse our site for some exciting online catalogs to kickstart your ideas or give us a call at (913)764-9341 to schedule an appointment to create custom solutions from the ground up.
Featured Item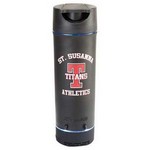 Zoom® Audio Flask
The Zoom® Audio Flask rocks out with an 18 oz. capacity to keep you hydrated. It boasts a removable, light-up, Bluetooth speaker that blasts your favorite soundtrack to keep you motivated and supports...

Signature Showrooms